Mighty 20 BT is the perfect amplifier for home

It emulates the sound of a number of other amplifiers in a single package and it has a lot of useful built-in effects as well. Loud enough to rock your party or you can keep it silent for practicing guitar only.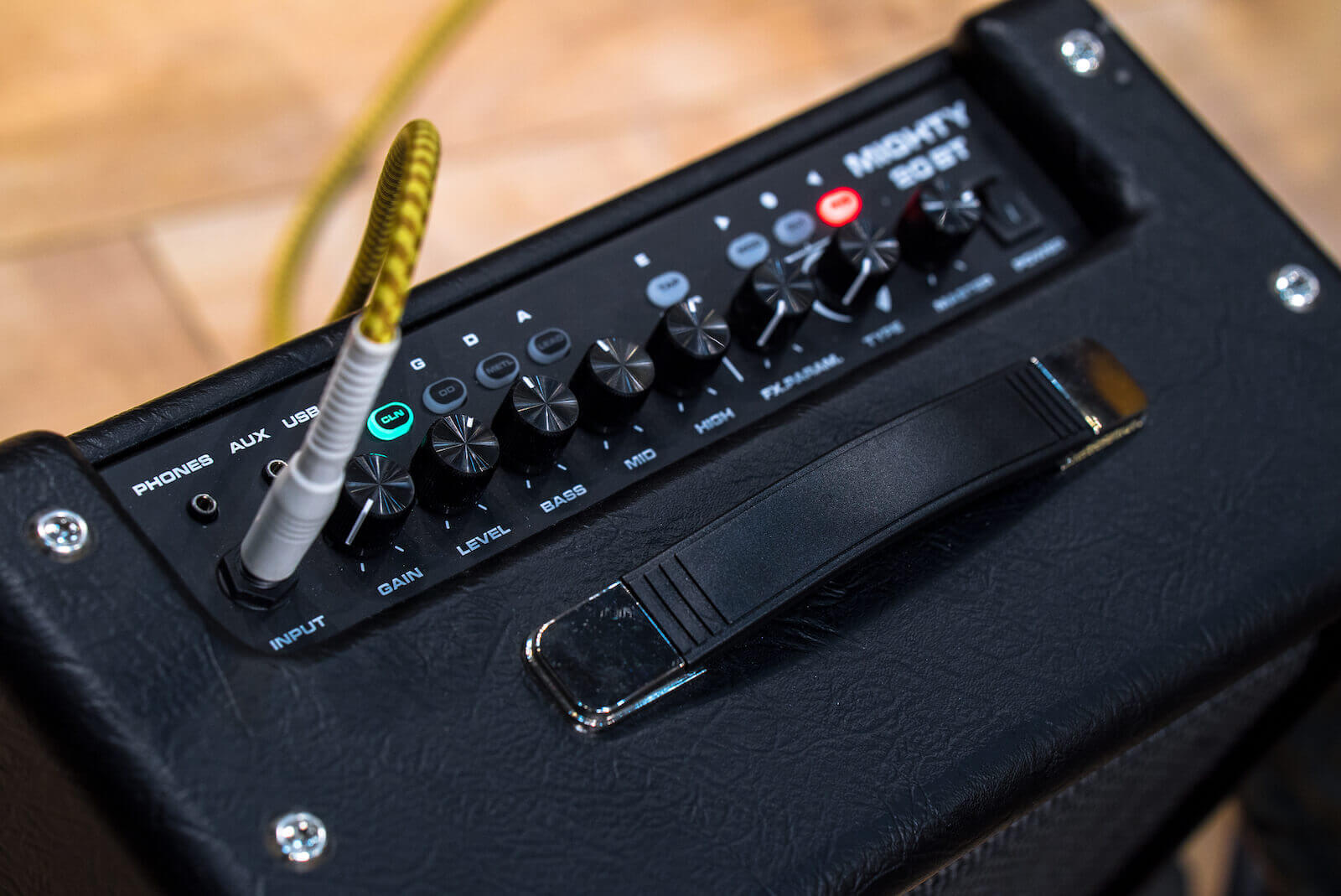 Great Experience of Musical Sounds
Mighty 20 BT has 4 channels and each channel has 2 sound presets, and each preset offers one of the well-known amplifiers' characteristic sound - in short, you will have 8 amps inside. You can get the real taste of different musical sounds and playing styles.
A Powerful Modeling Amplifier with Bluetooth Connection

Mighty 20 BT is 20 watt powered amplifier with 4 channels, digital effects, 3-band EQ and tuner. And you can connect any device by Bluetooth for playing along with your favorite music or backing track. Mighty 20 BT is 8-inch dynamic speaker equipped modeling amplifier, it's powerful.

You can customize and save your own presets and bring your sound to any stage.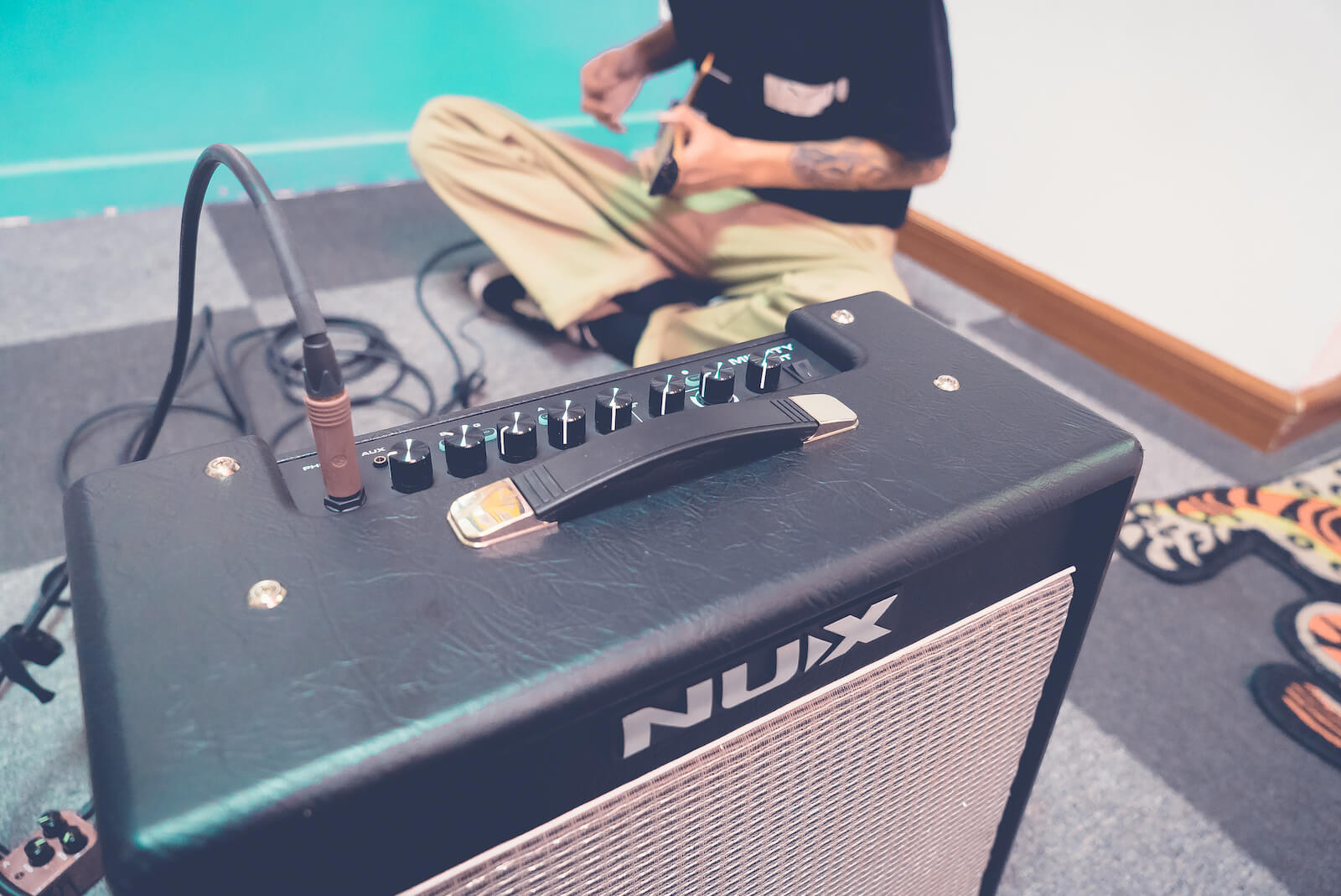 Stage Friendly Sound, User Friendly Interface
Bright and colorful LED buttons, ease to use smartly designed hardware interface.

4 Channels, 8 presets with Gain and 3-band EQ
All the presets can be customized, you can tweak the knobs or you can use the mobile application to adjust your desired sound and save it.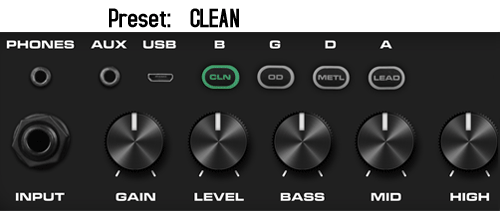 9 Variety of digital effects
You can combine 3 effects simultaneously, a modulation effect, delay and reverb effects can be activated at same time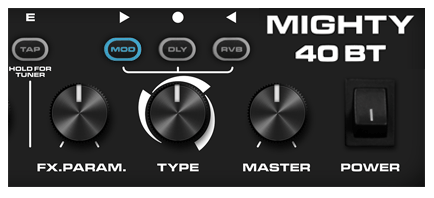 TAP TEMPO
You can adjust the delay speed by tapping and sync with the groove.
NUX Mighty APP
You can connect your mobile phone to Mighty 20 BT via the Bluetooth and play along with your favorite music.
We also developed a mobile application to control Mighty 20 BT amplifier with your smart phone. You can switch the amp's channels and control the Gain, Level and Tone parameters. Choose any effect you want and adjust the parameters. You can control everything, and there are more functions including some application exclusive features.
There are 3 modulation effects and a noise gate, and we added a backing track library for your jam. The internet is a big library, you can find everything you need for improving your guitar skill or jamming for fun. Mighty 20 BT provides the musical sound that will keep you playing for countless of hours.

Each preset can be customised, and you can save the presets to personalize your amp with your very own sounds.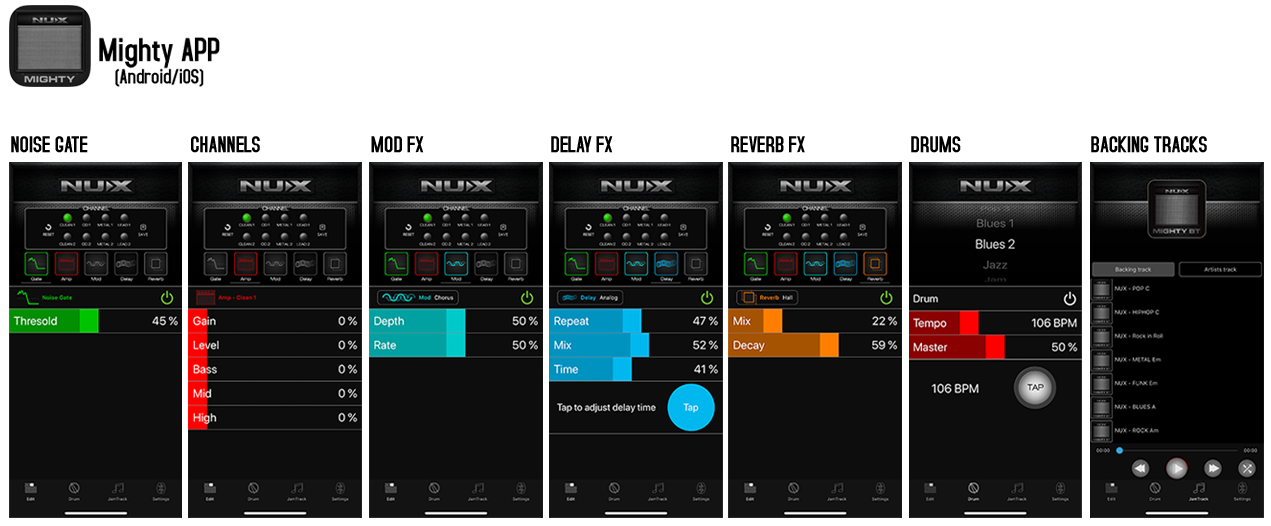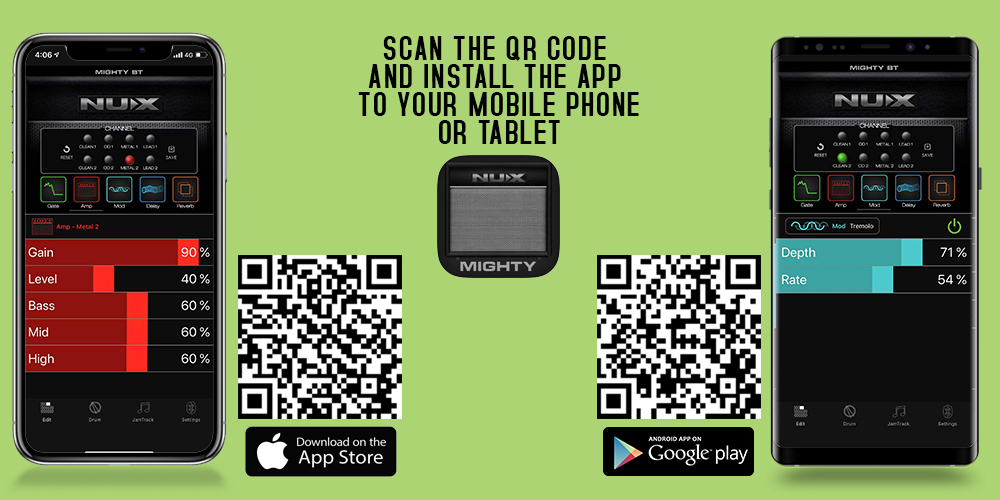 *Android Users:
Usually, connecting your devices to the Mighty series amplifiers is the same as connecting a Bluetooth speaker. Turn on the Bluetooth, search for the devices, select the amplifier, and it's done.
If you are having a connection problem:
Turn on the "GPS Services" on your device
reopen Mighty Amp app
allow it to turn Bluetooth on
Now your device is successfully connected, only one step to go:
Go to Settings (at the right bottom). Normally you can see your device's name here. If it's not, go to Select Device and choose your amplifier.
All set! Now you can activate the MIDI control, tweak the parameters and control your NUX amplifier with your mobile device.
Specifications:
20 Watt Output
1x8-inch speaker
4 Channels (Clean, Overdrive, Metal, Lead) Each channel has 2 presets
Gain and Level controls, 3-band EQ (Bass - Mid - High) and Master Volume
9 types of effects (Chorus, Phaser, Tremelo, Vibe, Delay, and Reverb)
3 types of Reverb and 3 types of Delay
3 Effects can be activated at the same time (Mod - Delay - Reverb)
TAP TEMPO
Tuner
3.5mm Aux Input, Headphone Output