The keyboard that helps you play
If you've ever wanted to play or perform your favorite songs, or thought of a melody that could become an original song, KORG is here to help you realize your musical potential. The KORG EK-50 is an entertainer keyboard that you can enjoy on any musical level, and an instrument that grows along with you.

Automatic accompaniment "Styles" provide an entire backing band you as you play the keyboard. From the moment you start playing, the rich accompaniments are created to inspire you to add phrases as they come to mind. As you gain performance skill, you can easily access the more advanced functions to give shape to the ideas of your musical sketch.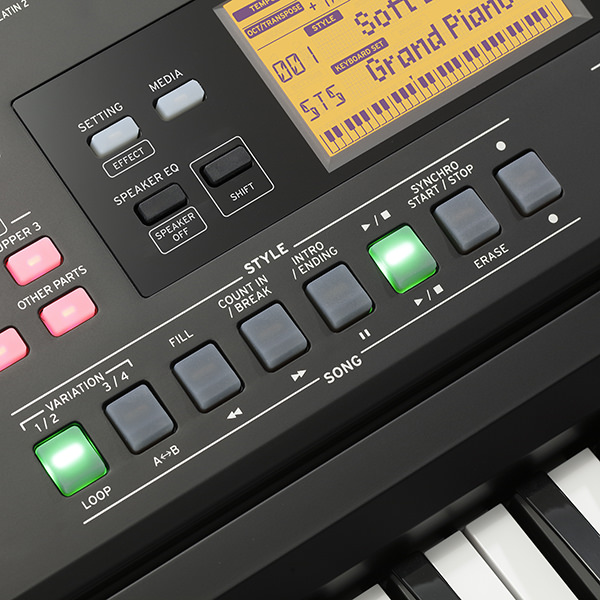 Styles support your performance
The EK-50 is equipped with automatic accompaniment functionality called "Styles". Which allow you to automatically produce a rich accompaniment with just one finger on the left hand, or by playing chords. Since this accompaniment changes according to the keyboard position or the chord that you play, you can easily improvise by playing the melody with your right hand. It's like leading a band that knows hundreds of songs with the touch of a finger.

EK-50's onboard Styles cover more than 280 musical genres from around the world, each with four variations ranging from simple to complex, as well as an intro and ending for the beginning and end of the song. You can add variety to your performance by switching these buttons in time with the rhythm.

There's also an "STS" (Single Touch Select) function that automatically selects recommended when you switch Styles. It's a perfect pairing of sound and Style, all set up and ready to go, so that you can focus on learning, creating or performing.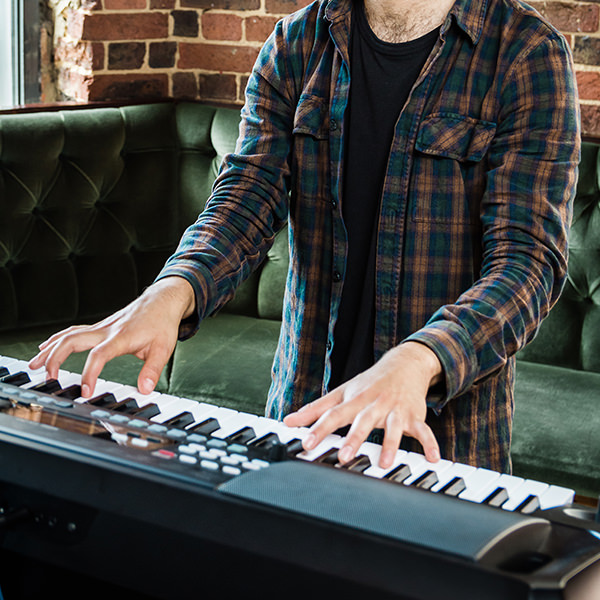 Play a wide variety of sounds
The EK-50 contains more than 702 realistic sounds including pianos, violin, sax, and drums. You select and play the sound you need, whether you're playing a solo performance or are playing in a band. You can also use the Split function to divide the keyboard and play different sounds simultaneously - such as piano with the right hand and bass with the left. This creates additional enjoyment with different combinations of sound.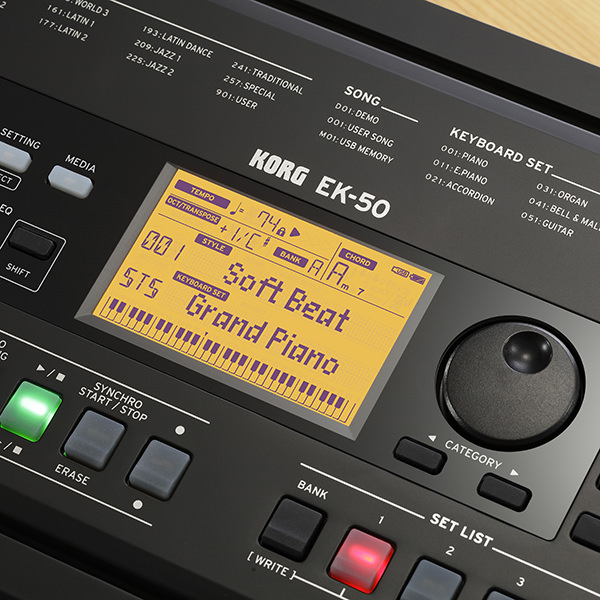 A layout that makes the numerous functions intuitive
The middle of the operating panel has a bright, clear display that shows the currently selected sound and Style names in large characters for great visibility. The principal switches are illuminated by their own LEDs which helps you visualize the setting of each function. There's also a "Grand Piano button" which brings you right back to the starting grand piano sound at any time, regardless of the currently selected sound.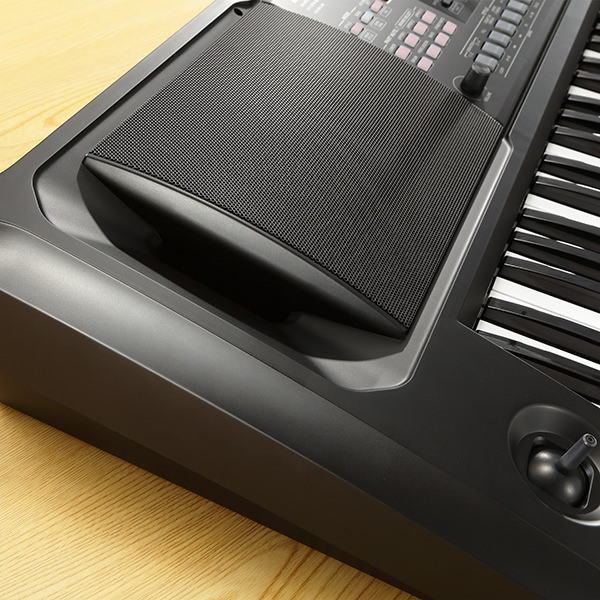 Built-in speakers for immediate enjoyment
Powerful 10W x 10W stereo speakers are built into the instrument. They can reproduce not only the sound of the instrument itself, but also sound from an external device that you connect to the input jack. Additionally, a music rest and AC adaptor are included, so you're completed ready to go right out of the box. The EK-50 also works with AA batteries (sold separately), so you can play on the go!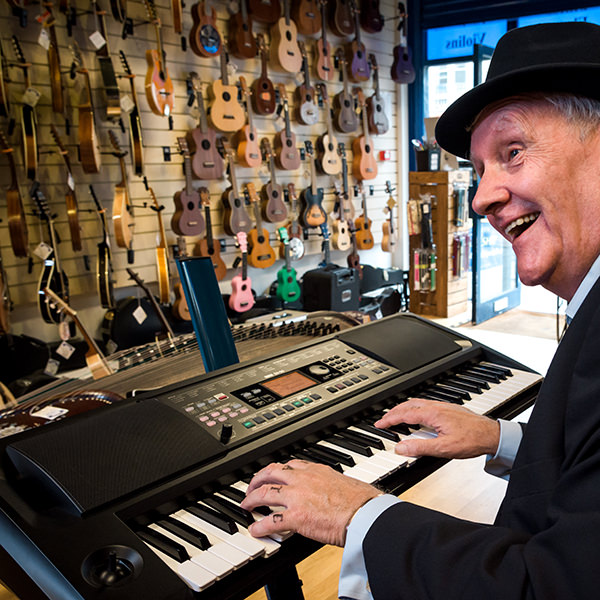 Convenient Music Styles for instant, complete playing setups
The EK-50 contains 64 "Music Styles" that preset the Style, sound and tempo suitable for the songs that you're familiar with. Simply selecting a Music Style and playing is an easy way to improvise or create ideas for original songs.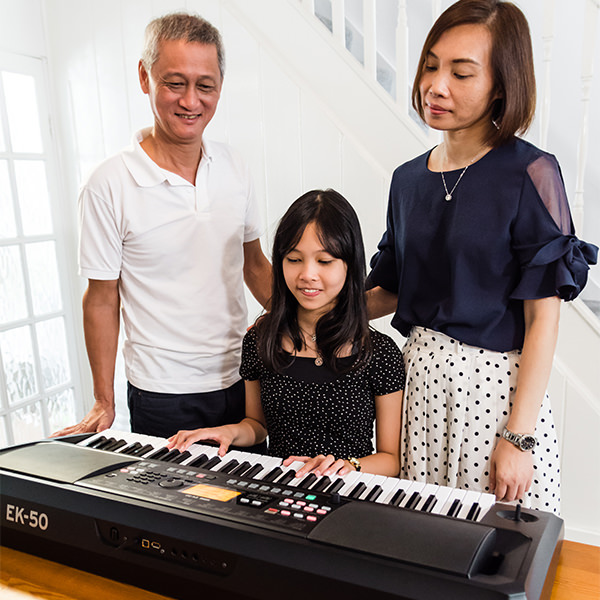 Play back favorite songs on the instrument while performing
Got a great new song idea? You can record your performances on the EK-50 and save them as well. Song mode lets you play back your own original creations, internal demo songs, MP3 or WAV audio data and SMF (Standard MIDI File) data saved on any commercially-available USB flash drive. You'll also be able to play sounds while these songs play back.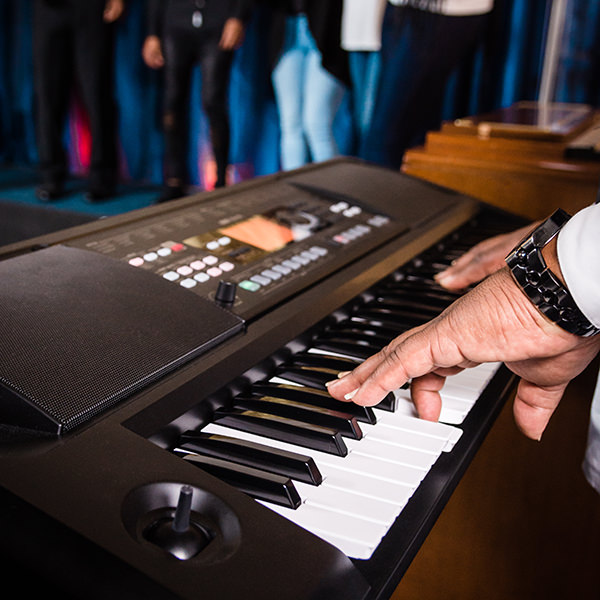 Add Styles from KORG's extensive library
The EK-50 is open-ended, which allows you to add up to 96 styles via a USB flash drive. We expect to add new data to the KORG website in the future and will keep you informed.
Specs
Keyboard

61 keys (velocity sensitive)
Touch Control: Soft (light), medium (standard), hard (heavier), fixed
Sound Generator

Stereo PCM sound generator
Maximum Polyphony

64 voices
Sounds

Over 702 sounds, 41 drum kits (including GM compatible sound sets)
Keyboard Sets

More than 170 sets
Effects
Accompaniment part

2 stereo digital multi-effects
Keyboard part

2 stereo digital multi-effects

34 types (148 variations)




Styles




More than 280 presets

2 intros, 4 variations, 2 fills, 1 count in/break, 2 endings, synchro start/stop, tap tempo
Music Styles

64 styles
Demo Songs

18 songs
Audio Player

MP3, WAV (44.1 kHz)
Sequencer
Record

Real-time recording (Style mode), maximum of 999 songs (approx. 100,000 notes), 12 tracks (4 keyboard parts + 8 auto accompaniment parts), original format (can convert to SMF0)
Playback

Supports song play (playing on the keyboard during song playback), SMF (Standard MIDI File) format 0 or 1
Scales

11 types (including user scale)
Controls

Power button, VOLUME knob, joystick, STYLE/[MUSIC STYLE] button, SONG/[DEMO SONG] button, KEYBOARD SET/[STS] button, GRAND PIANO button, each button in the PART MUTE/[SOUND SELECT] section, SETTING/[EFFECT] button, MEDIA button, SPEAKER EQ/[SPEAKER OFF] button, [SHIFT] button, ENSEMBLE button, SPLIT button, METRONOME/[BEAT SELECT] button, TAP TEMPO/[TEMPO LOCK] button, TRANSPOSE b and #/[OCTAVE –/+] buttons, dial, CATEGORY button, value buttons, + button, - button, each button in the STYLE/SONG section, each button in the SET LIST section
Set lists

10 banks × 4
Metronome

Tempo, beat, volume
Tempo

30–240
Key Transpose

C (-12) to C (0) to C (+12)
Tuning

427.5–452.9 Hz
Input/Output
Foot controller jack

6.3 mm (1/4") phone jack
AUDIO IN jack

3.5 (1/8") mm stereo mini-phone jack
OUTPUT L/ MONO, R jacks

6.3 mm (1/4") phone jack (unbalanced)
Headphones jack

3.5 mm (1/8") stereo mini-phone jack
USB A port

TO DEVICE port for connecting USB flash memory and controllers
USB B port

TO HOST port for connecting personal computers
Speaker System
Amplification

10 W × 2
Speakers

120 mm (4.72") double-cone speakers × 2 (bass reflex box-type)
Speaker EQ

8 types
MIDI

USB MIDI
Display

Custom LCD with backlighting
Power supply

AC adapter (included) or AA batteries (alkaline dry cells or nickel-metal hydride batteries) × 8 (sold separately)
Battery life

When using alkaline dry cells: approx. 5 hours
Power Consumption

8 W (0.1 W on standby)
Dimensions (W x D x H)

994 mm × 392 mm × 132 mm/39.13" × 15.43" × 5.20" (not including sheet music stand)
Height with sheet music stand attached: 329 mm/12.95"
Weight

7.5 kg/16.53 lbs. (not including sheet music stand or batteries)
Included items

AC adapter, sheet music stand
Accessories(sold separately):

XVP-20 volume/expression pedal, EXP-2 foot controller, DS-1H damper pedal (supports half-pedaling), PS-1 pedal switch, PS-3 pedal switch, SC-EK/Pa soft case