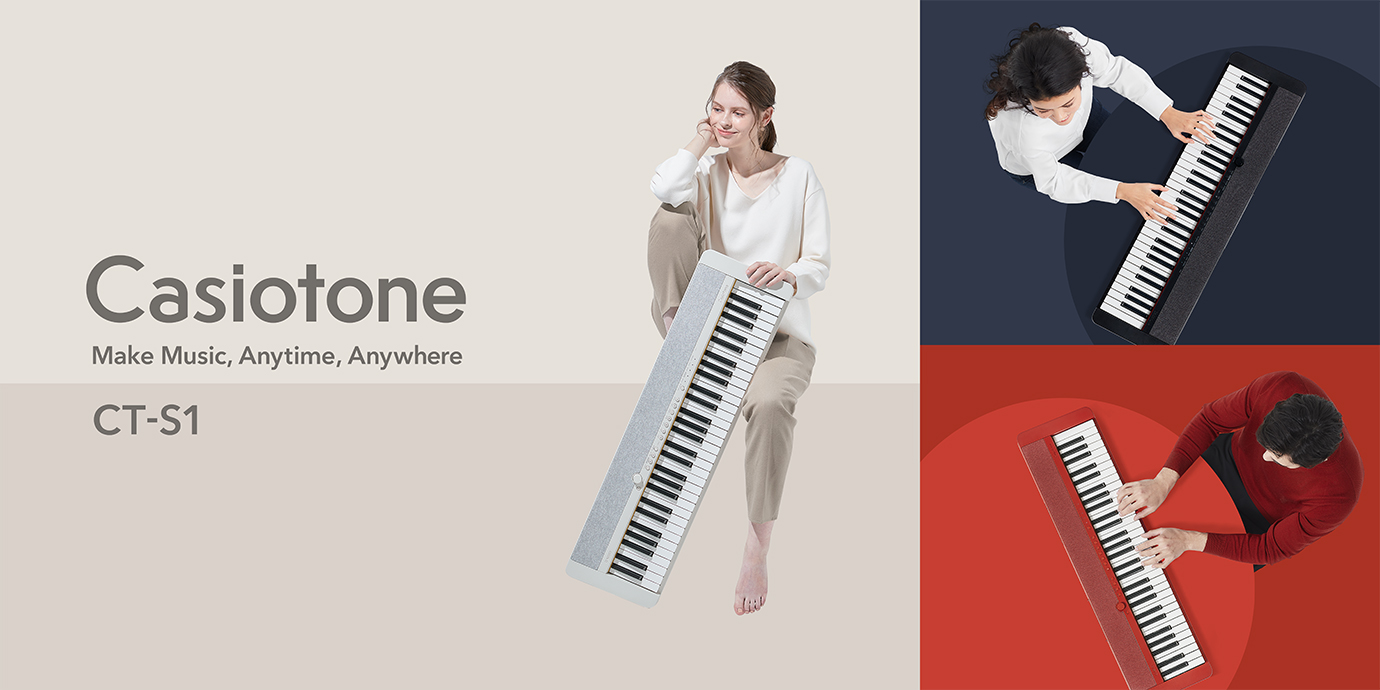 Your Style, Your Keys
Imagine your world filled with music. With the CT-S1, life is better in harmony. The simple, classic design is an easy complement to any room, and you can express yourself – anywhere and anytime – through music that reflects your emotion and brings joy and happiness. Easily transform your mood and style into your own personal sound.
Make music yours. Define yourself in sound.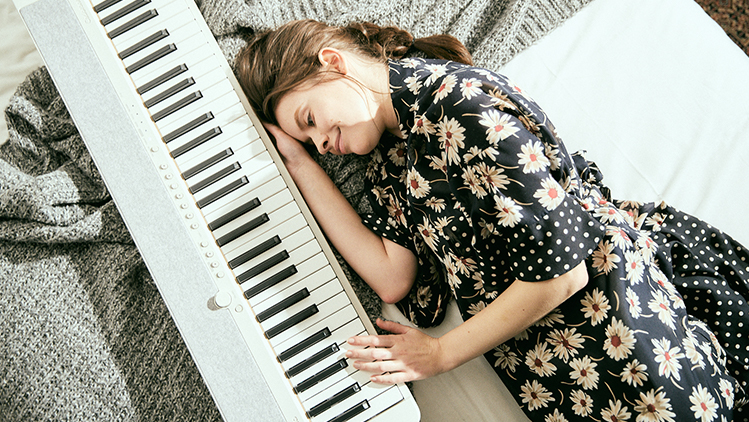 Simply Focused on You
Bring life and light to your world with the CT-S1 – a minimalist design allowing you to focus solely on the music. Savor the pure essence of the keyboard's musicality while developing your unique style. Functionality and design that is all about you, with a simple interface, and a color palette to suit every aesthetic and complement any décor. Create the perfect atmosphere with the CT-S1's sleek look and uplifting sound.
Lighten your mood and brighten your day.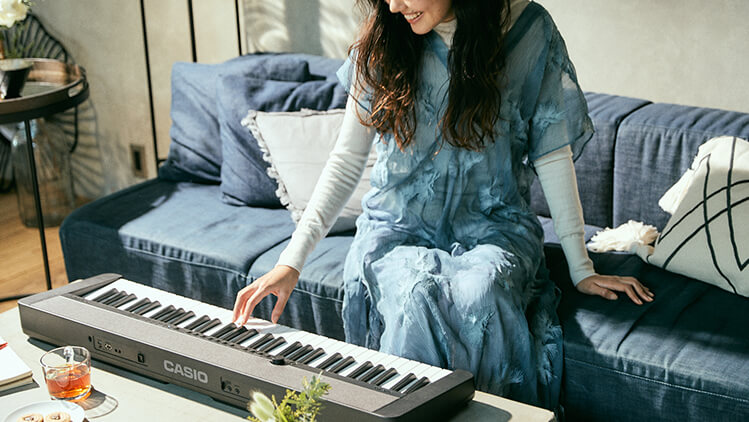 Sound That Truly Moves You
Bring vibrancy and emotion to your music with the CT-S1 – a keyboard like no other. Featuring AiX Sound Source, this innovative technology is designed to enable electronic instruments to produce the perfect tones and, combined with the integrated acoustic sound system, bring each note to life.
Recharge yourself with inspiration. Feel energized and encouraged to play more.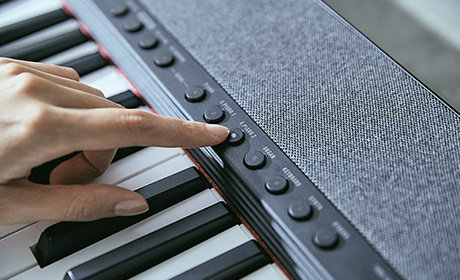 The Heart of a Champion
At the core of the CT-S1, the AiX Sound Source technology produces the true sounds and experiences of each instrument. Keyboardists can choose from 61 exquisitely crafted tones – including acoustic piano, electric piano and organ – so you're guaranteed to find your favorites. Developed by expert engineers, Casio's ADVANCED TONES allow you to experience the grandeur and flair of performance with modern ease.
Learn More About AiX Sound Source
Learn More About Advance Tones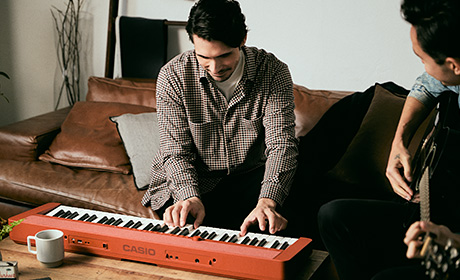 Timeless Instruments Reborn
Footprints that pioneer your future. We've analyzed the sound and structure of vintage musical instruments used in hit songs from the past to the present, and brought them to life using our unique technology. Now you're with the band. We've even included CASIO CLASSIC TONES, allowing old to become new again. We've captured the iconic sounds of our own rich lineage of keyboard and synthesizers, such as the Casiotone 201, to celebrate the 1980s debut of our electronic musical instruments.
Tune into the authentic sound of great musicians.
Learn More About Casio Classic Tones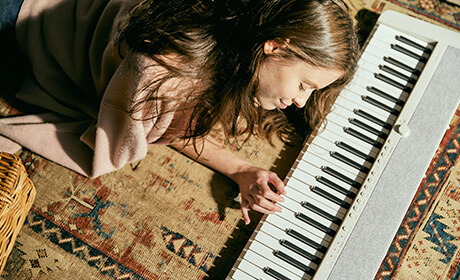 Sound That Brings the Room to Life
Experience dynamic sounds with the CT-S1's newly developed built-in speaker system. The innovative Horizontal Bass Reflex technology and specially designed speakers provide clear, crisp notes with a powerful bass 'punch' in a chic and compact form. Take your musical immersion experience a step further and lose yourself in lush soundscapes amidst the full power of surround sound. Maintain superior sound quality at any decibel with the Volume-Sync EQ function that automatically adjusts the presence of bass and treble, even at low volumes.
The CT-S1 brings to life a world of sound to inspire you.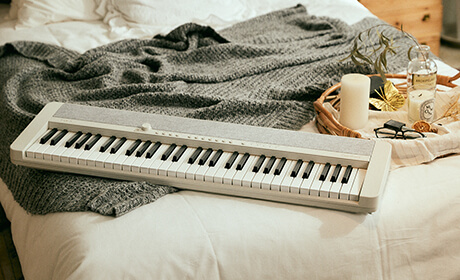 Keep It Simple. Keep It Real
With the pure essence of musical instruments at its core, the essential keys, speakers and minimalist design add to the CT-S1's simple functionality and operation, so you experience the best in playability and can concentrate on the music. Available in black, white or red, the keyboard's speaker net, with its mixed color-texture fabric, spans the length of the console, adding to the wide soundscape experience. The sleek look provides the ideal minimal aesthetic, blending seamlessly with any interior setting, and allowing your life and your music to shine.
Bring together life, space, and sound in perfect harmony with the CT-S1.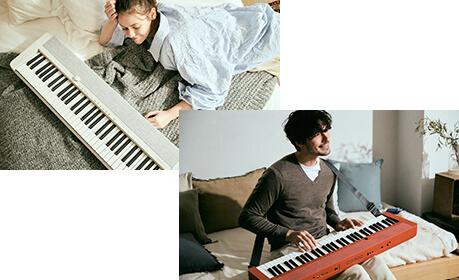 Small in Size, Big in Inspiration
The CT-S1's compact design ensures music is always by your side and easy to pick up and play anytime and anywhere. No preparation. No storage hassles. Music and innovation will always be at your fingertips. Its slim body will fit into any space, giving you the flexibility to match your playing style to your mood, with a form that fits into all kinds of tight spots. There are even pins for attaching your favorite strap, so you can experience the freedom of playing without a stand or desk. Whether you're on your sofa surrounded by family, or relaxing in your bedroom, play whenever and wherever the mood strikes.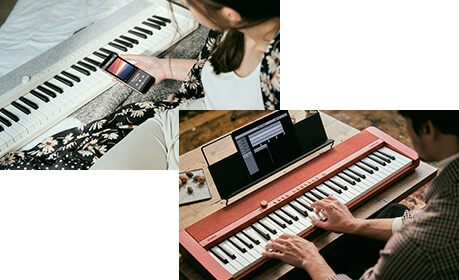 Connect with Your Music
The CT-S1 will never stop inspiring you. Bring your creative ideas to life. With the Wireless MIDI & Audio Adaptor WU-BT10*, you can pair your smartphone or tablet to your keyboard, and listen to or play along with your favorite songs through the CT-S1's powerful speaker system. The Chordana Play app allows you to personalize your experiences. In Audio Mode, change the key and adjust the tempo. Using the 'cancel melody' or 'cancel accompaniment' buttons, turn your favorite music into a backing track and play along. Lesson Mode utilizes the MIDI capability to individualize your lessons and make learning fun. Other MIDI-enabled apps and external devices ensure there are no limitations on experimentation as you keep exploring new and fun ways to listen, adapt and create musical experiences.
Casiotone – not 'just a keyboard' – it's your passport to enjoyment.
* sold separately
More Features

Touch Response – add intensity and rich expression to each note you play
Tone Memory – store all your favorite tones and settings for instant recall
Layer Function – expand your performance range by layering two tones
Metronome – keep time in practice and performance
MIDI Recorder – record your performances and play them back
Phones/output jack – tuck yourself away from the world around you as you play
Specifications
Keyboard

Number of Keys: 61
Touch Response: 3 sensitivity levels, off

Sound Source

AiX
Polyphony: 64

Tones

61
ADVANCED TONES: 10
CASIO CLASSIC TONES: 12

Layer

2 (Upper1/2)

Sustain

Yes

Effects

Reverb: 24 (+Preset for each tone)
Chorus: Yes (Preset for each tone)
Delay: Yes (Preset for each tone)
DSP: Yes (Preset for each tone)
Master EQ: 10

Volume-Sync EQ

Yes

Surround

Yes

Metoronome

Yes

Songs

Demo Song: 1 + 10 (Piano demo)

My Set Up Function

Yes

Tone Memory Function

Yes

Transpose

-12 to 0 to +12 Semitones

Tuning

A4 = 415.5 Hz to 440.0 Hz to 465.9 Hz

Octave Shift

-3 to 0 to +3 Octaves

Scale Setting

Equal temperament + 16 variations

MIDI Recorder

Yes
Songs: 1
Memory Capacity: 40,000 notes

General MIDI

Yes

Connection to Bluetooth®

Bluetooth® MIDI/Audio: Yes (with optional adaptor)

Connection to App

Supported App: Chordana Play

Terminals

PHONES / OUTPUT: Stereo mini
PEDAL: Standard
AUDIO IN: Stereo mini
USB TO HOST: micro B
USB TO DEVICE: Yes *for WU-BT10 only

Strap Pin

Yes

Speakers

(13cm x 6cm) x 2
Horizontal Bass Reflex: Yes

Amplifiers

2.5W + 2.5W

Power Supply

AC Adaptor: AD-E95100L (DC 9.5V)
Battery: AA-size alkaline batteries x 6 or AA-size rechargeable nickel metal hydride batteries* x 6
Battery Life: Approximately 3 hours continuous operation

Actual continuous operation time may be shorter due to battery type, performance type, and usage environment.
* Measured values while using eneloop batteries. eneloop is a trademark of Panasonic Corporation.

Power Consumption

7.5 W

Dimensions

930x258x83 (mm)

Weight

4.5kg

Included Accessories

Music stand, Strap lock

Optional Accessories (sold separately)

Pedals (SP-3, SP-20), Headphones (CP-16), AC adaptor (AD-E95100L), Wireless MIDI & Audio Adaptor (WU-BT10), Special stand (CS-2X), Benches (CB-7, CB-30BK, CB-30BN), Carrying case (SC-650B)

EAN code

CT-S1WE: 4971850315087
CT-S1BK: 4971850315070
CT-S1RD: 4971850315094

Input/Output Terminals

Click here for a list of the supported operating systems for the USB (TO HOST) feature.