ACOUSTIC:CORE 30 | THE WAY YOU PLAY TODAY
ACOUSTIC:CORE 30 is the new benchmark in compact easy-to-use acoustic amplification for all singer/songwriters: 'The Way You Play Today'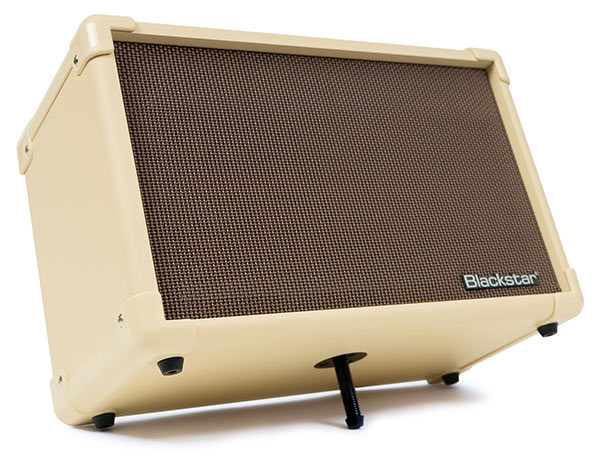 ACOUSTIC:CORE was designed to give singer/songwriters the ability to get a professional sound without any sound engineering expertise, then share it via live streaming or recording, or live performance. All in a compact easily portable combo with the option of battery power.
Designed by the same team that developed the award winning Sonnet Acoustic Amplifier Series, ACOUSTIC:CORE is the most natural sounding acoustic tones ever with the power and flexibility of Blackstar's world-beating CORE digital platform. This take-anywhere acoustic amp is designed for the way you play today: streaming, recording, practice or live. Its unique Enhance and Vocal Clarity controls make it simple to get a professional sound and the Super Wide Stereo will inspire your acoustic and vocal creativity.
STREAM

Livestream your performance easily with a standard TRRS cable to connect direct to your compatible phone and use apps such as GarageBand and Instagram live.

RECORD

4-channel USB audio makes low-latency makes professional recording simple:

USB Channel 1 + 2: Main stereo output
USB Channel 3: Pre EQ D.I for Channel 1
USB Channel 4: Pre EQ D.I for Channel 2

PRACTICE

Proprietary Super Wide Stereo technology with Enhance and Vocal Clarity controls provide a rich, deep and spatial acoustic and vocal sound, delivering an inspirational, immersive sonic experience when practicing or playing live.

LIVE

Professional features for live, home and studio use – 3 channels, livestreaming connectivity, USB recording and studio quality effects. Easily adjust the angle of your Sonnet using the built-in TILT STAND.
KEY FEATURES:


THE MOST NATURAL SOUND POSSIBLE WITH PROPRIETARY SUPER WIDE STEREO EFFECTS PLUS PRO SOUND USING OUR EXCLUSIVE ENHANCE AND VOCAL CLARITY CONTROLS.
SIMPLE, HIGH QUALITY LIVE STREAMING VIA A TRRS CABLE.
FEATURE PACKED: MULTI-INPUT (MICROPHONE, INSTRUMENT, LINE IN), 4-CHANNEL USB AUDIO, D.I. OUTPUT AND MORE.
3 INPUTS

Two channels and stereo line in make ACOUSTIC:CORE perfect for any performance.

ENHANCE

Enhance and Vocal Clarity controls are like having your own sound engineer, instantly creating the best possible sound for you.

USB AUDIO INTERFACE

Simple pro recording using the USB audio and interface.

VOCAL CLARITY

Make your microphone cut through the mix with a more pronounced professional vocal sound.

EFFECTS

Studio-quality Super Wide Stereo Reverb for each channel plus two specially voiced Chorus effects for your instrument channel.

PHASE

Help supress any acoustic feedback by applying the global PHASE control.

XLR D.I. MIX OUT

Professional connection to send your mix to front of house for larger gigs.

LIVE STREAMING (LINE IN)

Use a TRRS 3.5mm cable for easy input/output Live streaming capability.
EXPAND YOUR RIG
FS-18 MULTI-FUNCTION FOOTCONTROLLER

Easily switch effects on and off using this compact and rugged 2-button footswitch.

SA-2 35MM PA STAND ADAPTOR

Attach your ACOUSTIC:CORE to a standard 35mm P.A. stand using the SA-2 stand adaptor.

PB-1 POWERBANK

The compact PB-1 POWERBANK will power your ACOUSTIC:CORE for up to 9 hours. There are also two handy USB charging points and a useful stage torch built in.
THE NEW BENCHMARK IN COMPACT EASY-TO-USE ACOUSTIC AMPLIFICATION
SPECIFICATION
| | |
| --- | --- |
| | ACOUSTIC:CORE 30 |
| Power | 30W (2x15W Super Wide Stereo) |
| Instrument Channel | Y |
| Mic/Line Channel | Y |
| EQ Instrument Channel | Low, High |
| EQ Mic/Line Channel | Low, Mid, High/td> |
| Instrument Enhance | Y |
| Mic/Line Vocal Clarity | Y |
| Effects Instrument Channel | 2 chorus (Vintage and Wide), 2 reverb (Room and Hall) in Super Wide Stereo |
| Effects Mic/Line Channel | 2 reverb (Room and Hall) in Super Wide Stereo |
| Super Wide Stereo | Y |
| XLR D.I. Output | Y (mix) |
| Phase Feedback Suppression | Y |
| Speaker Emulated output | Y |
| Line Out / Headphones | Y |
| Line In | Y |
| TRRS Streaming | Y |
| USB Audio | Y |
| Footswitch | FS-18 (Inst. Ch. Chorus on/off, global Reverb effect on/off) |
| Tilt-back Stand | Y |
| PA Stand Mountable | Y (with optional SA-2 adaptor) |
| Speakers | 2x5" |